Opening General Session
Friday, October 21, 9:30–10:45 a.m.
From Pathways to Highways: The Focus of Being Relevant and Responsive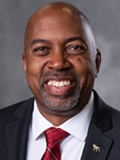 In recent years, the notion of securing a post-secondary education has come under harsh scrutiny, and at an unprecedented level. This can be seen as a challenge, or as an opportunity. Dr. Pink will share his vision of how educators and institutions need to proceed in their work, with great speed, to address this present environment.
Dr. Bill Pink became the 19th president of Ferris State University in July 2022 and is the first African-American appointed to the position since the University's founding in 1884. An active educator and leader nationally and locally for more than 30 years, he strongly believes in the power of education, in providing opportunity and furthering the University's commitment to ensuring the success of all students. Prior to Ferris State University, Dr. Pink served as president of Grand Rapids Community College and was vice president for academic affairs at Oklahoma State University-Oklahoma City Campus.
Dr. Pink is involved in governance and policy development at regional and national levels. He was appointed by Gov. Gretchen Whitmer to the Michigan Economic Development Corporation executive committee, and he is a member of the Higher Learning Commission board of trustees. He also serves on the American Council on Education board of directors, working with leaders from across the nation to shape public policy and to help more students gain a quality education. In West Michigan, he serves on the boards of Spectrum Health West Michigan, is board chair for the Heart of West Michigan United Way and board vice-chair for The Right Place.
In 2019, Dr. Pink was named Newsmaker of the Year in Education by the Grand Rapids Business Journal, and he is a sought-after speaker for events across the country with presentations focused on diversity, leadership, career and workforce development, and faith.
Closing Session
Saturday, October 22
10:30–11:30 a.m.
Answering the Question – College or Work?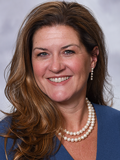 What do you want to be when you "grow up"? When will I ever need to know this again? These are common questions often heard as students navigate their Future Self Journey. Shannon Cox will explore Future Self visioning by unpacking the real questions we should be asking and answering about career pathways for students and young adults.
Shannon currently serves as the Montgomery County (OH) Educational Service Center Superintendent. She is the twelfth superintendent in the organization's history and the first female to hold that position. Her role includes working directly with and advocating for all 16 public school districts in Montgomery County. As the educational leader for the county, she works with leaders in city and county government and other public sectors.
Shannon was featured as a TEDxDayton speaker, where she gave her TED Talk on Future Self. Shannon has served as an adjunct professor at the University of Dayton, where she taught workshop classes and Educational Leadership courses.
Shannon believes there has never been a more important time in education to advocate for our profession, our schools, and most importantly our students.