Welcome to the National Career Pathways Network (NCPN), a membership organization dedicated to strengthening the education-to-careers pipeline through Career Pathways, Adult Career Pathways, career and technical education (CTE), and workforce development initiatives.

NCPN's membership encompasses secondary, postsecondary, adult, and correctional education; workforce and economic development; and workforce investment boards, community-based organizations, and employers.

Through conferences, workshops, and publications, NCPN facilitates the exchange of promising practices and innovations and assists its members in planning, implementing, evaluating, and improving Career Pathways.

NCPN connects people and resources, provides leadership and professional development, and helps its members discover solutions through partnering at local, state, and national levels.
Recent Items from NCPN and Our Affiliates ...
NCPN BOARD MEMBER SPOTLIGHT
Meet the Author: Reecie Stagnolia
NCPN Board Member Reecie Stagnolia authored the article "Investing in Adult Education Is an Economic Catalyst" in part 2 of the Workforce Edition of the COABE Journal. Reecie is the president and CEO of Stagnolia Strategic Solutions, LLC, and is the former executive director of Kentucky Skills U (KYSU). From the abstract: "Our adult education system must take our students further faster. We know we must be flexible, nimble, and responsive, addressing the adult education-related challenges of America's competitive skills crisis with a laser focus and sense of urgency."
ARTICLE
NCPN Connections 32-1
Preparing for Emerging Skills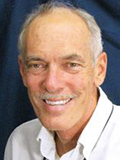 Mike Lesiecki, Senior Consultant, Center for Occupational Research and Development
The skills landscape is always evolving and changes quickly. How does, how can, an educator keep pace? The workplace of the future will require technicians who are able to navigate complex workplace environments in which existing jobs are constantly evolving and new jobs are being created. This article focuses on emerging technical skills associated with Industry 4.0. What is Industry 4.0? The term Industry 4.0 carries the promise of a new industrial revolution—one that marries advanced manufacturing techniques with the Internet of Things to create manufacturing systems that are not only interconnected but communicate, analyze, and use information to drive further intelligent action back in the physical world (Deloitte).
WEBINAR
January 27, 2022
Developing Local Education/Employer Partnerships from the Ground Up with IETs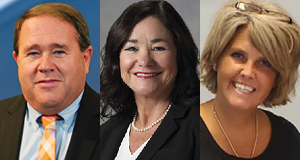 Jeff Arnott, Executive Director of Post-Secondary and Secondary CTE School District of Osceola County; Debra Pace, Superintendent of Schools School District of Osceola County; Karen Combs, Principal of Adult Learning Center of Osceola (ALCO); Dave Engilis, President of Touchless Boat Covers, Orlando, FL
In this webinar panelists discuss strategies for developing employer-education partnerships that get results through IETs.
PODCAST
Preparing Technicians for the Future of Work
Episode 36: Supply Chain Automation In Transition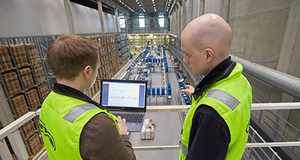 Podcast Guest: Phil Gilkes, Regional Maintenance Manager, Dollar Tree Distribution Centers (Feb 2022)
Phil Gilkes shares his extensive knowledge about the trends and transitions in the Supply Chain Automation industry. With systems like Predictive Maintenance and Overall Equipment Efficiency, Phil discusses the growing need for technicians to have a deeper understanding of effectiveness and efficiency in operating and maintaining equipment. Phil also gives insight into how education and employers are responding in order to equip technicians with the skills they'll need to succeed in the industry.
RESOURCE
Preparing Technicians for the Future of Work
A Framework for a Cross-Disciplinary STEM Core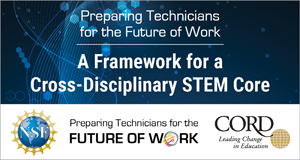 Produced by Preparing Technicians for the Future of Work (an NSF ATE project of CORD, the parent organization of NCPN), the Framework for a Cross-Disciplinary STEM Core makes recommendations for incorporating knowledge and skills in Advanced Digital Literacy, Data Knowledge and Analysis, and Business Knowledge and Processes into associate degree technician preparation programs. The Framework represents a paradigm shift for institutions that provide technician education. Technician educators must be empowered to integrate multiple disciplines into existing programs and develop new programs that support emerging disciplines and occupations.
CONFERENCE SESSION
NCPN CONNECT 2021
Developing a Culture of Strategic Employer Engagement through the BILT Model
Hear from college representatives at various stages of Business and Industry Leadership Team (BILT) implementation about how use of the model is strengthening employer/educator interaction and alignment of programs with industry needs. All panelists have participated in the BILT Academy, part of a National Science Foundation grant focused on mentoring educators to drive program innovation through co-leadership with employers. Moderator: Ann Beheler, PI, Pathways to Innovation, CORD; PI, National Convergence Technology Center, Collin College, Frisco, TX. Panelists: Antonio Delgado, Vice President, Innovation and Technology Partnerships, Miami Dade College, Miami, FL; Douglas Hamm, Dean, Business, Technology, and Hospitality, Lakeshore Technical College, Cleveland, OH; Mehran Mostajir, Engineering Systems Technology Program Director, Columbia State Community College, Columbia, TN (Delivered live by Zoom
XXXXXXXX
XXXXXXXXXXXXXXXX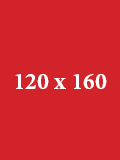 XXXXXXXXX, XXXXX XXX X XXXXX XXXXX XXX X XXXXX XXXXX XXX X XXXXX, and XXXXXXX, XXXXX XXX X XXXXX XXXXX XXX X XXXXX XXXXX XXX X XXXXXXXXXX XXX X XXXXX XXXXX XXX X XXXXX XXXXX XXX X XXXXX
XXXXX XXX X XXXXX XXXXX XXX X XXXXX XXXXX XXX X XXXXXXXXXX XXX X XXXXX XXXXX XXX X XXXXX XXXXX XXX X XXXXXXXXXX XXX X XXXXX XXXXX XXX X XXXXX XXXXX XXX X XXXXXXXXXX XXX X XXXXX XXXXX XXX X XXXXX XXXXX XXX X XXXXX