Welcome to the National Career Pathways Network (NCPN), a membership organization dedicated to strengthening the education-to-careers pipeline through Career Pathways, Adult Career Pathways, career and technical education (CTE), and workforce development initiatives.

NCPN's membership encompasses secondary, postsecondary, adult, and correctional education; workforce and economic development; and workforce investment boards, community-based organizations, and employers.

Through conferences, workshops, and publications, NCPN facilitates the exchange of promising practices and innovations and assists its members in planning, implementing, evaluating, and improving Career Pathways.

NCPN connects people and resources, provides leadership and professional development, and helps its members discover solutions through partnering at local, state, and national levels.
COMING SOON!

January 27, 2:00 EST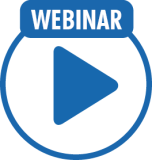 Developing Local Education/Employer Partnerships from the Ground Up with IETs
Integrated education and training (IET) programs combine occupational skills training with basic and academic skills instruction to expedite the education and career advancement of learners. Join us for this webinar as panelists discuss strategies for developing employer-education partnerships that get results through IETs. Panelists: Jeff Arnott, Executive Director of Post-Secondary and Secondary CTE School District of Osceola County; Debra Pace, Superintendent of Schools School District of Osceola County; Karen Combs, Principal of Adult Learning Center of Osceola (ALCO); Dave Engilis, President of Touchless Boat Covers – Orlando, FL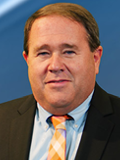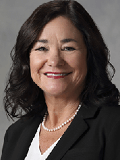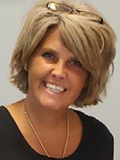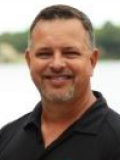 Recent Items from NCPN and Our Affiliates ...
NCPN BOARD MEMBER SPOTLIGHT
Meet the Author: Reecie Stagnolia
NCPN Board Member Reecie Stagnolia authored the article "Investing in Adult Education Is an Economic Catalyst" in part 2 of the Workforce Edition of the COABE Journal. Reecie is the president and CEO of Stagnolia Strategic Solutions, LLC, and is the former executive director of Kentucky Skills U (KYSU). From the abstract: "Our adult education system must take our students further faster. We know we must be flexible, nimble, and responsive, addressing the adult education-related challenges of America's competitive skills crisis with a laser focus and sense of urgency."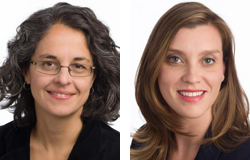 ARTICLE
A Quality Framework for Non-degree Credentials
Michelle Van Noy, Associate Director and Assistant Research Professor, and Heather McKay, Director, Education and Employment Research Center (EERC), Rutgers University
Non-degree credentials are increasingly of interest as workers look for short-term options to gain employment-related skills and enter a career pathway. Particularly in the post-pandemic environment, finding ways to get to work quickly is an appealing feature of non-degree credentials.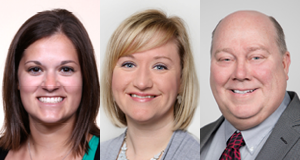 WEBINAR
Beyond Dual Credit Courses: Creating High School Academies That Offer Stackable Credentials
Katie Graf, Director of High School Partnerships; Jaime Spaciel, Director of Career Pathways and Program Effectiveness; Ray Koukari, Jr., Dean of Manufacturing, Engineering, and IT, Gateway Technical College
Gateway Technical College created a High School Academy Model where high school students are dually enrolled in courses that lead to certifications and stackable credentials with the opportunity to graduate from Gateway Technical College before graduating from high school. This session shows how the academy model was developed and grew from 35 students in 2019 to over 120 students in 2021 to meet community needs and student interests.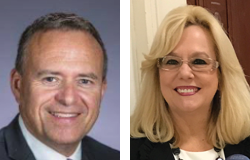 WEBINAR
A New Era of Excellence
Reecie Stagnolia, President, Stagnolia Strategic Solutions; Kaye Sharbono, former President, Coalition on Adult Basic Education (COABE)
In the workforce development arena, professionals are often on Career Pathways that lead from practitioner to the administrative conference room without the benefit of essential leadership development. Many may have been thrust into a leadership role at the state or local level, or have those aspirations. If so, a foundational knowledge of core skills in preparation to LEAD is critical. Panelists discuss the core skills of leadership and why they are necessary in this new era of excellence in achieving success.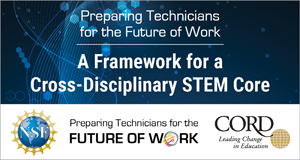 RECOMMENDED RESOURCE
A Framework for a Cross-Disciplinary STEM Core
Produced by Preparing Technicians for the Future of Work (an NSF ATE project of CORD, the parent organization of NCPN), the Framework for a Cross-Disciplinary STEM Core makes recommendations for incorporating knowledge and skills in Advanced Digital Literacy, Data Knowledge and Analysis, and Business Knowledge and Processes into associate degree technician preparation programs. The Framework represents a paradigm shift for institutions that provide technician education. Technician educators must be empowered to integrate multiple disciplines into existing programs and develop new programs that support emerging disciplines and occupations.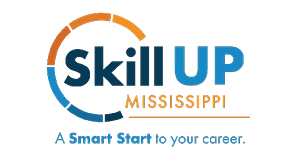 ARTICLE
Advancing Career Pathways in Mississippi
Beth Little, Mississippi Community College Board, State Director of Adult Education and High School Equivalency
In 2019, adult education in Mississippi was rebranded as SkillUP Mississippi. As adult education has evolved, so have the needs of our students. That's why we want Mississippi's adult education students not only to earn High School Equivalency (HSE) diplomas but also to acquire skills required in today's job market. We want to Skill UP Mississippi.
RECOMMENDED RESOURCE
Introduction to Stackable Credentials
The approach by community and technical colleges of embedding "stackable" certificates aligned to industry certifications within associate degrees has emerged in recent years as a practical way of helping students progress along the education continuum while earning credentials with labor market value. Introduction to Stackable Credentials, produced for the U.S. Department of Education Office of Career, Technical, and Adult Education by CORD in partnership with SPR Associates, provides steps for enhancing employer engagement, designing programs with stackable credentials, supporting student completion, and sustaining programs responsive to employer needs.