Career Pathways Leadership
Career Pathways Leadership (CPL) Certification Institutes I and II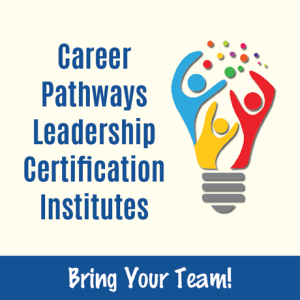 If you are involved in career technical education, adult education, counseling, corrections, or workforce development and your duties have expanded to include Career Pathways, we invite you and your team to attend our Career Pathways Leadership (CPL) Certification I and II Institutes.
CPL I and II are both two-day events. Below is a sampling of topics to be covered:
CPL I
Need for Career Pathways Partnerships
Sector Identification and Employer Engagement
Initial Professional Development
Program Design and Delivery
Funding
Need for Communication
CPL II
Academic Achievement
Career Planning
Professional Development with Stakeholder
Career Pathways Refinement and Implementation
Beginning with the End in Mind
Full Career Pathway Assessment
Strong Postsecondary Connections
Career Pathways Leadership (CPL) Certification for Adult Educators
Two days. This workshop covers the same general topics as our regular CPL workshop but focuses specifically on the roles of adult education practitioners, administrators, CTE directors, workforce and economic development personnel, and others who work with adult learners.
NCPN can deliver CPL workshops at your location, customized to state or local issues.
Contact workshops@cord.org to learn more about customization options.