Opening General Session
Thursday, November 9, 8:30–9:45 a.m.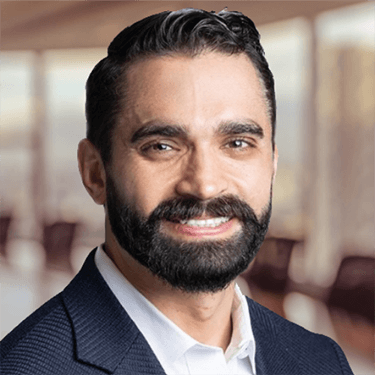 Aaron Burciaga
Co-founder, Chairman & CEO, DataPrime
Chair of Global Analytics Certification Board, Artificial Intelligence Advisory Committee

Aaron Burciaga is a renowned Data Scientist, AI Engineer, author and Advisor. As a seasoned technology and business leader in both startup and enterprise settings, he has focused his career on delivering efficiency and value through automation, data science, machine learning, Artificial Intelligence, blockchain, quantum computing, and emerging concepts and innovative technologies. Aaron is the Chair of the Analytics Certification Board. His roles have included CEO, CTO, Vice President, and Senior Director of Fortune 500s and co-founder of data and technology startups. Aaron is a Forbes contributor, frequently invited keynote and speaker, and Certified Analytics Professional (CAP). He is an appointed member of the U.S. Department of Commerce's National Technology Information Service (NTIS) advisory board. Aaron received his M.S. Operations Research from the Naval Postgraduate School and his B.S. from the US Naval Academy.

Strands
Strand 1: Career Counseling, Development, and Advising
Strand 2: Teaching and Learning
Strand 3: Designing / Delivering Programs
Strand 4: Establishing / Growing Partnerships
Strand 5: Workforce Development
Focus Areas
S (Secondary)
P (Postsecondary)
A (Adult Education)
W (Workforce Development)
B (Business)
Audience
F (Faculty)
C (Counselor)
A (Administrator)
S (Staff)
E (Employer)
Levels
Beginner / Intermediate / Advanced
Rooms
Ash, Birch, Cypress, Dogwood, Maple, Redwood, Spruce
Thursday 10:15–11:00 (Forum 1)
Redwood
Strand 3 / P A W / F A S / Beginner
Credit for Prior Learning (CPL), Badging, and Lessons Learned

This presentation will discuss the AWESM grant's mission to create more equitable opportunities for students. Content will include going over roadblocks and successes in CPL. Attendees will gain a more thorough understanding of why this is important, along with ideas on how they can implement steps at their institutions. Linda S. Robinson, Project Director, AWESM, Forsyth Technical Community College, Winston-Salem, NC; Thomas Champ, Credit for Prior Learning Coordinator, Forsyth Technical Community College, Winston-Salem, NC; Dr. Kevin Osborne, Vice President, Economic Mobility and Workforce Outcomes, Forsyth Technical Community College, Winston-Salem, NC
Maple
Strand 3 / S P A / F C / Intermediate
Improving Diversity, Equity, and Inclusivity via an Equity Gap Analysis

This presentation will focus on River Parishes Community College's use of the National Alliance for Partnerships in Equity's (NAPE) five-step Program Improvement Process (PIPE) as a means of increasing the access and success of underrepresented groups in its CTE programs. Esperanza Zenon, Professor of Physical Science, River Parishes Community College, Gonzales, LA
Dogwood
Strands 1–5 / S P W B / F C A E / Intermediate
Leveraging Artificial Intelligence in Online CTE Classrooms

This presentation explores integrating AI technologies to enhance learning experiences in Career and Technical Education (CTE). It delves into innovative strategies, tools, and practices that empower educators to provide personalized, engaging, and efficient online learning environments. Lane Freeman, Director of Online Learning, North Carolina Community College System, Raleigh, NC
Thursday 11:15–Noon (Forum 2)
Maple
Strand 1 / S P A W B / F C A S E / Beginner
The Path to Employment Empowerment: Career Literacy + Network Strength

In this session, a founding director of The DeBruce Foundation will share an original research study defining factors of "employment empowerment," which translates to higher salaries, more job security, and better benefits. The study identifies two factors over which an individual can have a meaningful degree of control: career literacy and network strength, and how organizations can build these factors to help individuals expand career pathways. Robin Smith, Founding Director, The DeBruce Foundation, Kansas City, MO
Dogwood
Strands 3, 4, 5 / S P A W B / F C A S E / Intermediate
Strengthening and Expanding Advanced Manufacturing Career Pathways and Partnerships

In this session, you will learn how Northwood Technical College is providing tuition-free training in advanced manufacturing to high school students, incarcerated individuals, incumbent workers, and members of the four Native American tribes within their region through dual-enrollment academies, micro-credentials, and mobile training units. Jeanne Germain, Dean, Manufacturing, Apprenticeships, and K12 Relations, Northwood Technical College, New Richmond, WI
Thursday 1:15–2:15 (Clinic 1)
Ash
Strands 1–5 / S P A W B / F C A S E / Intermediate
Adopting a Career Pathways Framework That Supports and Sustains Innovation

This presentation will highlight best practices centered around three focus areas: Strategic employer engagement, designing career pathways with stackable credentials, and supporting student completion. Participants will benefit from the experiences of five national cohorts and receive tools and resources they can deploy immediately with K-16, community, and employer partners. Hope Cotner, President/CEO, CORD; Debbie Davidson, Director of Technical Assistance, CORD
Redwood
Strands 1–4 / A W B / A S E / Intermediate
Building Non-Credit Remote Programs for the Adult Learner

Come learn about the exciting new fully remote IT training program hosted in Denver. The Rapid IT Training and Employment Initiative grant from Jobs for the Future has helped the Colorado Community College System pilot and implement many exciting new programmatic elements that serve our adult learners. Torrie Costantino, IT Pathway Program Manager, Colorado Community College System, Denver, CO; Arlette Stratton, Student Success Specialist, Colorado Community College System, Denver, CO
Spruce
Strands 1, 2, 4 / S P A W B / F C A S E / Intermediate
Less Talk, More Walk: Creating a Culture of Trust and Accountability

One of the greatest challenges we face is a lack of trust and accountability. Trust in others and institutions is at an all-time low and yet is critical to the work we do. Learn strategies to not just talk about, but to WALK around building trust and accountability with others. Josh Davies, Director of Workforce, Aztec, Morristown, NJ
Cypress
Strands 2, 4, 5 / P W B / F A S E / Intermediate
Win-Win: How Employers and Community Colleges Are Meeting Their Mutual Goals

Employers and community colleges often face a knowledge gap about each other's organizations, negatively impacting their ability to partner. Come learn how business learners engaged through an unusual program and overcame misconceptions to develop successful partnerships with community colleges to support their mutual goals to expand employment opportunities for CTE students. Jessica Toglia, Senior Program Manager, Jobs for the Future, Boston, MA; Robert Tudor, Director of IT Partnerships and Student Placement, Nashville State Community College, Nashville, TN; Nicholas D'Antonio, Workforce Strategy Program Manager, Lockheed Martin, Ph.D. Candidate, North Carolina State University
Maple
Strands 1–5 / S / F C A S E / Intermediate
Yes, You Can Prepare Students for the Monday After Graduation

Attendees will learn how a comprehensive public high school created 23 industry-aligned career pathways with intentional work-based learning opportunities, community partnerships, dual-credit opportunities, and aligned industry credentials. Attendees will take away advisory partnership structures, information on course alignment, and ideas for community partnerships and mentoring to foster employability skill development. Lori Heuer, Talent Development Director, Whitley County Consolidated Schools, Columbia City, IN; Jennifer Reiff, Director of Innovation (CTE) and Technology, Whitley County Consolidated Schools, Columbia City, IN
Thursday 2:30–3:15 (Forum 3)
Maple
Strand 2 / S W B / F C A S E / Beginner
Developing Future Entrepreneurs and Leaders Through School-Based Enterprise, PBIS, and Peer Mentoring

This interactive session will inform educators on how to establish a paid or unpaid school-based enterprise. With this student-managed initiative, students will be trained on how to provide goods and services to a target market through project-based learning experiences. Attendees will receive a step-by-step plan for implementation within 30 days. Tabatha M. Spurlock, CTE Academic Advisor, Richmond Public Schools, Richmond, VA
Spruce
Strands 1, 3, 4, 5 / A W B / A / Beginner
Making Sense of the Adult Education and Workforce Continuum

In this session, participants will learn how the ESC of Northeast Ohio and representatives from its Business and Industry Leadership Team (BILT), career centers, higher education institutions, state agencies, and community organizations are partnering to explore developing and creating a seamless adult (16+ to 40) education and workforce continuum. Paula Kucinic, Director of Professional Learning and Workforce Development, Educational Service Center of Northeast Ohio, Independence, OH; Nadine Grimm, Coordinator of 21st Century Learning, Educational Service Center (ESC) of Northeast Ohio, Independence, OH
Thursday 3:45–4:30 (Forum 4)
Maple
Strands 2, 3, 4 / P A W B / F C A S E / Intermediate
Industry Fellowships Help Community College Instructors Prepare Tomorrow's Workforce

Many community college instructors have never worked in industry, yet they must prepare students for industry work. This summer, a group of biotech faculty were immersed in industry externships through the Biomedical Emerging Technology Applications Summer Fellows Industry Program. Learn how this collaboration with industry partners armed faculty with a new set of technical and employability skills to help students better prepare for career success. Russ H. Read, Executive Director, National Center for the Biotechnology Workforce @ Forsyth Tech
Ash
Strands 1, 3, 5 / F C A S / Beginner
Senior Exit Interviews (Not Your Typical Exit Interview) and Career Exploration

Learn how an exit interview process will capture all seniors needing assistance with their future plans and how your team can reach every senior to assist. Having fun, engaging career exploration specific to the career technical pathways is a helpful way for students to explore the occupations in their pathways. Rachel J. Hoag, Career Strategist, Polaris Career Center, Middleburg Heights, OH (Linked ZIP file contents: presentation, senior exit interview handout, 11th-grade lesson, Emoji guessing game)
Cypress
Strands 1–5 / S P A W B / F C S E / Beginner
Your Roadmap to Creating Inclusive Career Pathways

The presenters will share promising practices and innovations that promote inclusive workforce practices through an equity lens. Join us as we demonstrate an interactive online career pathways tool that provides educators and workforce professionals with resources to engage businesses, leverage partnerships, promote career-based learning, advance DEIA, and support youth. Laura M. Gleneck, Director, LEAD/WIOA Policy Development Center, Washington, DC; Sarah Loizeaux, Subject Matter Expert on Inclusive Career Pathways, LEAD/WIOA Policy Development Center, Washington, DC
Friday 8:30–9:30 (Clinic 2)
Ash
Strand 4 / S P W B / F C A E
Engaging Industry and Education to Solve Ag Technology Workforce Issues

This session will show how an agriculture equipment maintenance and technology (AEMT) initiative brought together colleges, secondary schools, equipment manufacturers, and dealers to develop and implement an AEMT-focused curriculum and professional development. This session will focus on project highlights, partnership roles and engagement, lessons learned, and best practices gathered. Judy Barka, Assistant Director, AgCentric: Northern Center of Agriculture, Staples, MN
Cypress
Strands 2, 3 / S / F C A S / Intermediate
Strategies for Recruiting High School Students to Your Biotechnology Program

Enrollment to biotechnology pathways has been a continuing challenge for many programs. Although more and more high school students are taking dual enrollment biotech courses, they often do not matriculate to the colleges offering continuing pathways in biotechnology. This session will share strategies used to engage and recruit dual enrollment high school students—and include specific visual tools and activities that can be easily modified to match your program's pathway and in your own high school recruitment efforts. In addition, presenters will share a framework for a two-week summer course that was the focus of our recruitment outreach with students. Michael Fuller, Pathways Lead, BABEC, Burlingame, CA
Friday 9:45–10:30 (Forum 5)
Dogwood
Strands 1–5 / S P A W B / F C A S E / Beginner
Fostering Self-Regulation Among Dual Enrollment and Young Adults in Workforce Training

This presentation delves into fostering self-regulation among dual enrollment students and young adults in community colleges, crucial for academic and career success. It outlines the faculty's role in developing these skills, identifying challenges, and providing actionable strategies for enhancing self-regulation, ensuring lifelong success and workforce readiness. Lane Freeman, Director of Online Learning, North Carolina Community College System, Raleigh, NC
Spruce
Strands 1–5 / S P A W B / F C A S E / Beginner
How to Include Crisis-Facing Populations in Career Pathways Programming: Career Foundations

The Career Foundations course allows crisis-facing populations to develop career/education plans leading to sustainable careers using their current programs as on-ramps. We will address the challenges and barriers participants face and how adult education and workforce development can serve them at the beginning of their career pathways journey. Tara D. Driver, Sr. Career Pathways Manager, Women Employed, Chicago, IL; Efrata Sasahoulih, Program Research Coordinator, Women Employed, Chicago, IL
Friday 11:00–Noon (Clinic 3)
Spruce
Strand 1 / A W / C S / Intermediate
Customer Service: The New Recruitment and Retention

This presentation will provide a new vision of customer service by exploring recruitment and retention strategies designed to assist agencies and organizations in retaining and recruiting students within their programs. It will focus on practical strategies for helping participants develop skills for delivering friendly and attentive customer service on a human level. LaTasha V. Dale Warren, Career Coach and Career Development Facilitator Instructor, Arkansas Division of Workforce Services Adult Education Section, Little Rock, AR
Maple
Strands 1–5 / S P A W B / F C A S E / Intermediate
Enhancing Employability Skills in Technical Disciplines

The Necessary Skills Now (NSN) Network, an NSF-ATE coordination project, facilitates collaboration between educators and employers to improve the employability skills of entry-level technicians across STEM disciplines. This session will share free resources for integrating employability skills such as teamwork, problem-solving, communication, and dependability into technical programs. We'll highlight our newest teaching tools for advanced manufacturing faculty and discuss opportunities to join our next cohort. Hope Cotner, NSN Principal Investigator, President, CORD; David Dinkins, Faculty Cohort Lead, Forsyth Technical Community College
Birch
Strands 3, 4, 5 / S P W / F A / Intermediate
Grant Writing Strategies for National Science Foundation ATE Proposals

The National Science Foundation Advanced Technological Education program has funding available to support CTE/STEM technician programs, faculty development, career pathways, curriculum development, outreach activities, and equipment procurement. This session will review the current ATE solicitation for funding, and will help attendees understand what activities qualify, the funding tracks, and how to prepare and apply for an award. This funding has the potential to help improve or develop a technician program. Attendees will review the ATE solicitation and learn about grant writing strategies, NSF-ATE resources, and mentoring opportunities. Gregory Kepner, Executive Director, Hillsborough Community College, Tampa, FL; Mel Cossette, Executive Director, Edmonds College, Lynwood, WA