NCPN Federal Tax ID #: 74-2077794.
PRECONFERENCE (Thurs • Oct 20)
Half-Day Workshop or Tour
$150
Full-Day Workshop
$300

MAIN CONFERENCE (Fri–Sat • Oct 21–22)

SUPER Early Bird (Feb 15–Mar 15)
$495
Early Bird (Mar 16–June 1)
$595
Preregistration (June 2–Sept 15)
$645
Onsite Registration (after Sept 15)
$695
TEAM Registration (5 or more) (thru Sept 15)
(Must be from one organization and pay withy one check.)
$550 each
Presenter Registration
(Presenters should wait for acceptance before registering.)
$550 each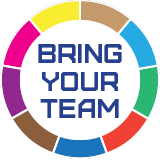 Through Sept 15, teams of FIVE or more people from the same organization can register for $550 per person.
Questions?  Linda Locke • llocke@cord.org • 254-741-8334
For individuals who must cancel their registrations, the following rules apply:
All cancellations must be in writing.
Cancellations received between September 1 and September 30 will be charged 50% of the total registration fee.
Cancellations received after September 30 and conference no-shows will be responsible for the full registration fee.
Substitutions can be made through September 30 by contacting Linda Locke. Substitutions after that date will need to be made onsite in Atlanta.
Please email Linda Locke at llocke@cord.org or call 254-741-8334 for questions about registration.