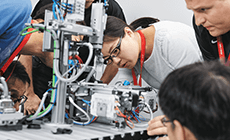 With the rise of automation comes the need for highly skilled industrial professionals. Survey information indicates that for most manufacturers attracting and retaining the right talent remains their top challenge. It's clear that better education and hands-on training is the way forward. In fact, most manufacturers say that upskilling their workers helped improve productivity, promotion opportunities, and morale.
Today's skills gap, which is the mismatch between the skills possessed by job seekers and the skills needed by employers to fill current and future roles, means that the available talent pool is smaller than general population numbers indicate, which is a major problem. The National Association of Manufacturers forecasts that 2.1 million manufacturing jobs will be unfilled by 2030. Today, most of the workforce development training in the U.S. takes place at two-year colleges. If all those institutions exceeded expectations and graduated 100 manufacturing students per year, the United States would still be short about 1 million skilled workers. Unfortunately, the system is nowhere near this hypothetical graduation rate due to several factors – especially the fact that we simply do not have enough men, women, and young people pursuing manufacturing as a career.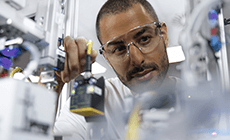 We must find innovative ways to close the skills gap and be able to have those 2.1 million workers ready by 2030. Why? Because globalism is in decline and regionalism is rising. We must increase manufacturing in the United States and to do that we need a wider set of the population to view manufacturing as a desirable career choice. And we need manufacturing and educational institutions to welcome them.
In other words, we must expand the talent pool. Who are we speaking about in this wider pool of future manufacturing workers? The people who have been underrepresented in manufacturing – women, people of color, older workers, English as a second language speakers, those with disabilities, and the recently incarcerated who want to turn their lives around.
We need parents and underserved communities to become aware that manufacturing is a dynamic career choice. The public simply doesn't know about the high-pay, high-in-demand careers that modern manufacturing offers. As a result, most do not encourage their children or community members to explore manufacturing as a career. How do we convey that education and technology training can be a thrilling hands-on experience that engages the entire person, mind, body, and spirit?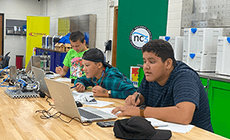 Reaching into middle and high school STEM programs provided a good start in expanding the talent pool. States, local municipalities, community colleges, and employers now must reach deeper into the communities to attract a wider pool of candidates for certificate and apprenticeship programs. To close the opportunities gap, we must partner with local churches and community enrichment organizations. We must also expand apprenticeship opportunities to not only ensure people have an income while they pursue a new career, but also to provide the type of instant gratification so necessary for psychological engagement.
There is also a need to be more flexible in programming. What may work for the traditional applicant to a community college may not be enticing communities of color, first- and second-generation immigrants, or those who think higher education is not for them. Educators and manufacturers may need to start with simple hands-on tasks and more graphics in training to build confidence and work up. Programs must be changed to speak to different interests and learning styles. We can do this, but it will take imagination and a willingness on our part to stretch.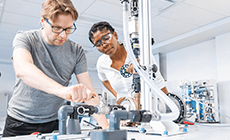 One of our partners once said to me, "Festo Didactic is providing the American dream." I asked him what he meant. He said, "Your lab-equipment systems give a young person who doesn't really know what he or she wants to do in life the opportunity to train on state-of-the-art automation equipment. Right out of school, they immediately begin earning a life sustaining, perhaps even a generational changing, wage with promotions and opportunities to follow." What we in the education, training, and manufacturing industries hope to offer is more than an above-average wage, although that is essential. The jobs in 21st century manufacturing can be meaningful over a lifetime. Manufacturing and processing create the things we need, whether its baby formula or shelf-stable food or the components of a mass transit bus. Workers keep the machines and the goods flowing. Vibrant communities grow when education, employers, and community leaders understand the power of an inclusive workforce of all its citizens.
Our job as educators, employers, and public officials is to help people see the opportunities and understand these opportunities are within reach. Those in the wider talent pool must believe that we want them to succeed and are willing to work side by side with them to accomplish that.
It is up to us to awaken broader interest in manufacturing. I know that together we can do great things for our communities and the people who live in them.