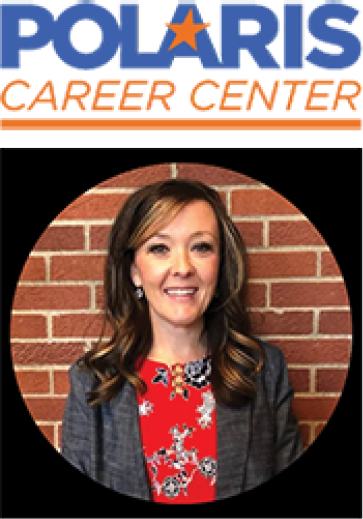 Hi, everyone! My name is Rachel Hoag, and I am the Career Strategist at Polaris Career Center. I firmly believe in the career center philosophy and the training we provide for our students. Through our office, the Office of Innovation, Career & Workforce Services, we have identified three career development pillars:
Career Awareness & Exploration
Career Planning
Workforce Development
Through these pillars, we provide a variety of services to our students. I will provide information on just a few highlighted programs for this article. If you wish to reach out regarding any of our initiatives, please get in touch with me at rhoag@polaris.edu or 440-891-7691.
Unlock the Possibilities: Career Exploration
I believe that it's never a bad thing to continue to explore careers regularly. Every time I work with a class on career exploration, I learn more about occupations that I had no idea existed. You don't know what you don't know, and with regular investigation, students can plan their future according to their interests.
At Polaris Career Center, we are a training facility and believe in the power of exploration, exposure, and career development. We recently piloted a career exploration program through MajorClarity, a college and career readiness platform. This year, we piloted the program in a handful of 8th- and 11th-grade classrooms. Now that we are ready to expand due to the program's success, we will focus on 8th-grade students in our six associate districts and 11th-graders on our main campus, Polaris Career Center.
For the 8th graders, the students will participate in a two-day engaging lesson.
Day one consists of charades or Pictionary (students choose), and the students act out or draw different occupations. It gets a little competitive with the teams and is fun. Once the correct occupation is answered, the students will guess the education needed and the average salary. We go over a few facts about the specific occupation they correctly guessed.
Day two consists of interest and learning style inventories and then exploration within their career pathway matches to their personalities. Students share their occupation findings and spend the rest of the time exploring the career pathway options through Polaris Career Center. All students participate in an exit survey that gains valuable feedback on our career exploration program and answers a few questions about their career interests. It has been helpful for the students to work in small groups when working on career exploration within the MajorClarity system. The students can explore their careers but talk about them at their table to make others aware of the options after high school.
Teachers will also be provided with additional lessons, including creating a 'flat Stanley' in groups with Stanley having different occupations. Research on the profession will be listed on Stanley (average salary, job challenges, rewards, etc.).
Another lesson will include watching video clips of professionals and their experiences and an online activity within that pathway.

The 11th-grade main campus students will have an approximately two-hour lesson. The lesson will include program-specific career exploration. For example, for the Dental Assisting program, students will explore occupations within the dental pathway. The students will also be able to explore postsecondary options and financial resources. The students use a comparison tool for the postsecondary options to see what the training looks like and which makes sense for their specific needs. We end by creating a LinkedIn profile. Teachers are provided with additional lessons for the students to continue their career exploration. The lessons will include completing a micro-credential (a mini certification) that can be added to their resume and senior portfolios.
Overall, the feedback has been positive regarding what the students are learning and taking away from the MajorClarity career exploration lesson. From the pilot to now, we have adapted the program based on student and teacher feedback. In one district, we created resumes because the students did not have them, and that's essential when speaking with employers. Overall, the students took a lot away from the lesson, provided valuable feedback, and thought it was well worth their time to help prepare for their future. The students have access to the platform for a minimum of three years. This will come in handy as they make career decisions when out of school.
Career Planning & Workforce Development: Employability Training, Resume Writing, and Mock Interviews
Polaris Career Center is centered on training. There are multiple tiers to that training. Let's talk about one that is crucial: Employability Training. Employers are telling us regularly the struggles they are experiencing. The concerns range from employees calling off regularly, not showing up for work or interviews, lacking simple conversational skills, etc.
At our career center, we house junior and senior year programs and Adult Education Training Programs. During each one of these programs, we hold an employability lesson. This lesson includes training on soft skills, mock interview practice, interview dress attire, handling conflict, tips on how to keep their current job, and avoiding interview mistakes. This lesson is crucial, and the students find it helpful to be guided. So many students need to prepare for interviewing or practice getting a job and keeping it. We teach them lessons on employability based on what we have seen work and what employers share with us.
Our students will also create a starter resume with all the skills they have learned through their program. This will list any certifications they have earned on top of the mastered skills. Students can use these for their mock interviews. Professionals within their pathway conduct mock interviews. For example, suppose we have a mock interview planned for the Police Academy Adult Education Training Program. In that case, we will have professionals in the police force who volunteer their time as mock interviewers. This practice is beneficial for our students to walk into an interview. They will speak with confidence and will be more relaxed with the preparation.
Employability training is so vital to our students. They walk into interviews more prepared than their same-aged peers. We prepare them to enter the real world with confidence and skill.
Students also have opportunities to go into the workforce on multiple levels. After their junior year, the students can accept a paid summer internship. The internships are typically six weeks long, and the students are beaming with pride at what their experiences brought them. The students love this summer opportunity. They must have their teacher's recommendation and qualifications based on their attendance and grades. Employment must be a good match between the student and the placement. We are picky about where we place our students to make sure it's well worth the time of our students as well as the place of business.
Many times, summer internships will turn into senior-year placements. This takes place as early as October, and students are permitted, if they qualify, to go to work three half-days instead of attending the career center for classes. We have an overwhelming number of students out on placement. This summer, it will be over 100 students, and currently, we have over 70 students out on school-year placement for the seniors.
In addition to the employability training, resumes, mock interviews, and job placements, we will also hold career fairs for students to connect with employers. This is an opportunity for students to practice their conversational skills and make job connections for the future.
Polaris Career Center is dedicated to training our students in every way we can. We love hearing back from students about where their career pathways have taken them.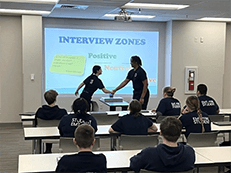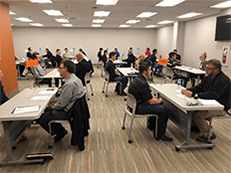 Align Your Future: Senior Exit Interviews
Do you know what you want to be when you grow up? It's hard to see the future, and planning for it can be challenging, especially at 18. Well, as we know, seniors are a tricky bunch. On the one hand, they are ready to sail a ship and get out in the real world. On the other hand, they are confused and have no idea what they want to do with their lives. Due to the complexity of this, we developed Senior Exit Interviews. These interviews are during the months of November and December. The purpose behind these is to make sure every senior has a plan after high school and, in addition to those plans, has taken steps to achieve their goal.
We asked each senior what their plans were after high school. Based on their answers, we had additional follow-up questions to determine where they were in the process. Those questions may have included:
If they plan on attending college, have they applied and filled out their FAFSA?
If they plan to enter the military, have they taken the ASVAB, signed a contract, and been in contact with a recruiter?
If they plan on entering the workforce, do they have a job lined up, and does it pay a decent living wage?
Do they wish to attend an adult education training program? If so, are they connected to doing so?
After the discussions, the students who needed assistance had a one-on-one follow-up from the appropriate staff member. Those staff included:
Career Strategist (Career exploration, guest speakers)
Director of Workforce (Workforce placement assistance)
Director of Innovation (Workforce placement assistance, guest speakers)
College & Career Counselor (College application and FAFSA assistance)
School Counselor (Personal family concerns)
Adult Education Coordinator (Interested in enrolling in one of our adult education training programs)
The environment was vital to us, and we wanted the students to feel welcomed and at ease during the interviews. We wanted it to be laid-back, positive, and fun. The students came in a bit nervous since this was new, but they walked out smiling and thanking us for helping them with their future.
Based on the senior exit interview data collected, we held multiple seminars, asking professionals to come in as guest speakers. Some students were interested in real estate, so we held a real estate seminar with Allison DiMichele from Keller Williams. She came in and presented to our group of students interested in real estate in some way, whether that was becoming a real estate agent, working with investment properties, or any other area. The students were genuinely engaged and asked many questions throughout the whole presentation.
In addition to the real estate seminar, a professional tattoo artist/entrepreneur, Pablo Gonzalez, came in as a guest speaker. He told his story and how he became who he is today, which is in demand based on his artistic skill level. Again, those students interested in this creative ability came to the seminar and were engaged, asking questions the whole time.
Having professionals in our building to speak with students is so valuable. The students are always engaged when our guests come in, as they are genuinely interested in the pathway that made the professional successful. Hearing the stories first-hand is something we want to continue in the future. We will base our guest speakers next school year on the exit data and desires of the students.
We collected overwhelming positive feedback from the students after the interviews. We look forward to rerunning this program next school year. Setting our students up for success and connecting them with the right people is crucial to ensuring they have everything aligned to attain their goals.
Connection with Your Future: Senior Connections
At Polaris Career Center, we service six districts in various ways. On our main campus, we have juniors and seniors who attend a half day of school for one of our program pathways (Aeronautics – Welding). We also have programs in all our middle and high school buildings where students can take a course taught by a Polaris Career Center teacher in their home district. These students can choose to be in the program for all four years.
Now, the students who are non-Polaris students attend their high school all four years of school. At the end of those four years, we will end up with seniors in our districts who never came to one of our programs for one reason or another, and they have yet to decide what they want to do after high school. One thing these students do know is that they do not want to attend college; they wish to enter the workforce but need job leads. We get worried about these students and reach out to them to provide an opportunity to benefit their future planning. Here's how our newly developed program works:
Each district (six total) will identify non-Polaris seniors who have decent attendance, are on track for graduation, do not wish to go to college, but do not have a good job lead for their future. Once these students were identified, the Director of Innovation and the Career Strategist met with every identified student individually to gather additional information while providing the agenda for the event, Senior Connections. For the first year, we had an overwhelming response and desire to attend. If there were students who wished to attend but didn't have a resume, we would create one on the spot for them. These were printed for the students before they attended the event, so they had them for the job fair portion. As it was a piloted program, we only allowed 50 total students split between our districts. Next year, we are looking to expand, but we are still determining what that will look like.
The agenda for the day was simple – to create a positive atmosphere where the students felt comfortable and allow them to connect with others to start a goal in sight for their future.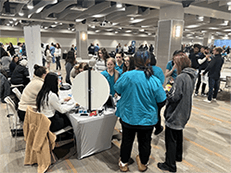 Agenda:
9:00 AM – arrival to Polaris Career Center
9:15 AM – opening activity, discussion on the agenda for the day
9:30 AM – tour of our adult education training programs
10:30 AM tour conclusion, discussion on what they were able to see as well as tips for the job fair that they will attend after lunch
11:00 AM – luncheon from Chipotle (the way to a student's heart)
11:30 AM – job fair (students had resumes in hand for this event) with 26 employers.
12:00 PM – desserts, exit survey, and final discussion on their experience/what their interests are
1:00 PM – dismissal
Our seniors who were not out on job placement and still in the building were invited to attend the job fair at noon. They were encouraged to bring the resume they created with their class during an employability lesson.
During the Senior Connections Event, students were able to make connections to help create a promising future for themselves. We are excited to see what the future holds for them. Our goal was simple – to allow all students to connect with employers and our adult education training programs. The students had so many opportunities to choose from this event. We are already looking forward to next year's event!